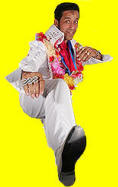 I (and all those at my party) would wholeheartedly recommend Elvis if you want to guarantee a really fabulous evening. Thank you Elvis.......I love you!!!!" Colette
Dave Quinn plays Elvis Presley with the presence of The KING..

Don't Miss A Thing From The King

Although I didn't know you before you came and wasn't sure whether you were any good, I can honestly say you worked incredibly hard and gave it 210%. It was an absolutely fantastic show which all my family, friends and wife (a BIG Elvis Fan) enjoyed immensely. I wouldn't hesitate for a second to recommend your fabulous entertaining performance and show to others.
Peter Ashford
Hi Dave
How can we thank you enough, you made our Rock'n 50's Party for Jackie's birthday a fantastic event, everyone who was there loved your performance, Elvis was in the building! when you need Elvis reach for Dave Quinn he is the King!!

Thanks Dave

Dave & Jackie
East Sussex
---
Hi Dave,
Just wanted to say thank you for Saturday nite. You were great and everyone loved ya especially my mum.. Cheers x Lisa
Restaurant Ellenor Lions Hospice Charity Show, I Organised.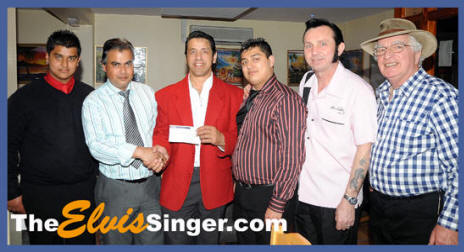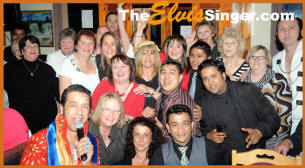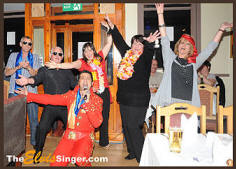 ---
BACK FROM PERFORMING IN
INDIA
Photos HERE
To Book The Elvis Singer For Your Restaurant Party or Hotel Party Call Now For An Instant Quote.
---
For A Light Hearted Fun Evening With The Magic Sounding Voice of a Fantastic Elvis Impersonator, Call NOW.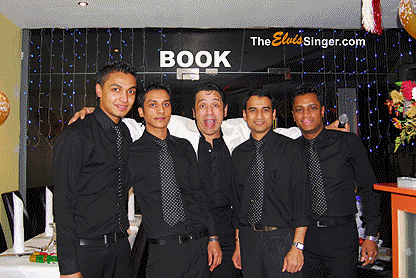 ---
I Must Say It Was Brilliant And I Have Customers Enquiring About Your Next Show. I Will Let You Know A Date So We Can Work Together To Have Another Night Of Fun.
Syed Manager Indian Restaurant - Essex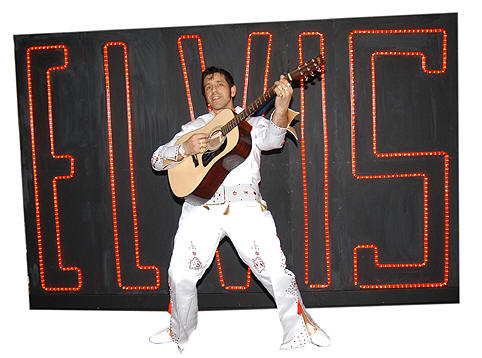 ---

Irene's Exciting Birthday Visit from Elvis at a fab Italian Restaurant Ashford. With love from Peter.


Fun in South London

Even the Management joined in with Entertaining the Party at Swanley's Best Chinese Restaurant.

Pub Restaurants Are Also Very Popular As Here in Greavesend.

CROYDON, LONDON. Making a point or two.

Congratulations and Celebrations on a Fabulous 40th Wedding Anniversary Held in A London Restaurant. I was honoured to perform for this lovely couple originally from Mauritius And Goa. Where I soon will be performing.

---

"I celebrated my 40th birthday with family and friends but, much as I love them, they can't compete with Elvis!

Ealing Restaurant

The Elvis Magic Hypnotising this young crowd.

Charity Night At Restaurant In Kent.
---
BBC T.V. STRICTLY COME DANCING - TAKE TWO - Said
"You Are Exactly What We Were Looking For. Brilliant."
See TV Film HERE
---
BBC Radio Said when they heard Dave Quinn The Elvis Singer " God. It Could Be Elvis."
---
Dave is now available to take
YOUR BOOKINGS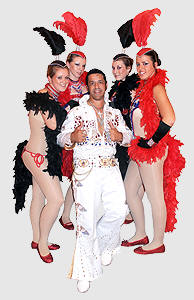 SOUTH EAST LONDON Based. Available to sing at your Wedding, Corporate Function or Special Event.
I am pleased to say I have had the opportunity to save many Special Party Events from Disaster by Not Being Afraid to take Last Minute Bookings. I have even performed my Elvis Tribute Show Internationally with only 5 Days Notice. So, 'Never Fear, Elvis Is Here'.
---
Equally at home singing Early Years Sun Recordings to Elvis Ballads and All Time Elvis Classics. The real Elvis spirit will live forever in your heart and mind when you hear the exciting voice of Dave Quinn, singing his unforgettable tribute to the King of Rock'N'Roll Elvis Presley.
Your Welcome to email for latest list of gigs.
BOOK HIM NOW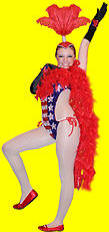 Dave Quinn's Elvis is the Ideal choice for
Special Parties, Weddings, Fund Raising Events, Meet And Greet, Shows, Corporate Functions, Anniversaries, Birthdays and any Special Event.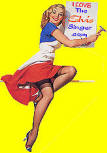 Dave (our Elvis) produced an amazing charity show that people are still talking about now, some 6 months later. Even though on the night of the show all 3 of the supporting acts did not turn up (which in anybody's books spells disaster) Dave came up trumps. He did two un-rehearsed sets to warm things up singing songs from other popular genres. With the Ultimate Elvis show bringing the house down with his Climatic Elvis Performance and Fabulous Dancers. Not one person complained or even seemed to notice that the other performers were nowhere to be seen. Simply Brilliant. Probably the Worlds Greatest Elvis.
Carol Kent

Hi Dave,
we just wanted to say a big thank you for the wonderful show last Saturday. We weren't really sure what to expect but you were great at getting everyone dancing and creating a brilliant atmosphere.
I have to say I wasn't quite sure whether some of the comments on your website were genuine but now I definitely believe them all!
All the best,
Frances and Dave Cambridge
---
South East London Based Elvis Impersonator Dave Quinn Makes Every Party Rock And Roll

Dave is the spot on choice for any event calling for a dynamic and exciting Elvis Impersonator or Look Alike Performer.
Dave Quinn Elvis Look-A-Like Really Does Sound Like Elvis.

Weddings, Corporate or Special Events, Surprise Parties Even Office Functions All Come To Life When The
King of Rock'N'Roll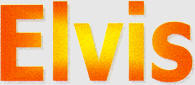 Appears at your Venue
Dave Sounds Like Elvis Using His Own Voice.

Dave's friendly personality and Elvis sound is truly enchanting. Successfully captivating the look and moves of the King, he's a delight to watch or get up and dance to. He delivers quality music with a smile and is able to compliment any occasion. He sings with a choice of 50's Army Uniform, 50's Gold Jacket, 60's Black Leather or 70's Elvis Jumpsuit. The choice is yours.

Your Honoured Guests Will Be Made To Feel Extra Special When The
King Serenades Him Or Her With A Song And Or A Silk Scarf

Dave is a seasoned Elvis impersonator and celebrity look-alike who delights audiences with his powerful magical singing voice, commanding stage presence, and knows how to make your event one that will be fondly remembered and fun.

CALL NOW for BOOKING Information or Details.
For A Little Less Conversation & A Little More Action, Email For Availability
Elvis

EMAIL: cvop@hotmail.co.uk Telephone U.K. 07952 117258
Dave Elvis Quinn
P.O. Box 64
Dartford
Kent
DA1 1ZH
England

Web Creation by www.DaveQuinn.com